Golden 1 Center Information
Located in downtown Sacramento, California, Golden 1 Center was built to be the home of NBA superstars the Sacramento Kings, and opened its doors on September 30, 2016. Leading the way as the most technologically advanced arena in the country, Golden 1 Center is on the cutting edge, from its efficient and sustainable use of solar power and renewable energy to its free, high-speed wi-fi that can handle more than 225,000 Instagram posts every second.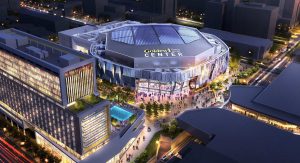 The arena is built for both beauty and practicality, boasting both the largest viewing screens in the NBA and a building that reflects the colors and fabric of North California, composed of sand from San Benito and rocks of Sierra limestone.
The arena also caters for guests with all the top-notch amenities you can expect from a venue that prides itself on attention to detail, and offers a whole host of dining experiences and sensational farm to fork foods.