Golden 1 Center | Sacramento, California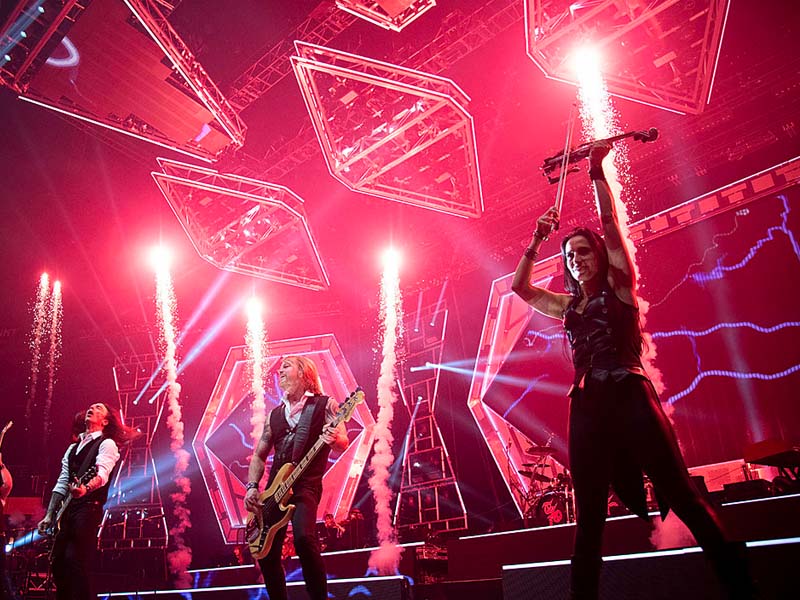 Start your December with a bang by experiencing the truly unique extravaganza! Attending a holiday-themed event is a must for the winter, and what's a better way than a grand heavy metal spectacle performing sensational yuletide staples? The Trans-Siberian Orchestra allows you to lift your Christmas spirits and enjoy headbang-worthy music through their trail-blazing musical arrangements! Their brand of progressive and symphonic metal not only lets you enjoy your favorite genre but also have a go at themed tracks, like "Christmas Canon Rock," "O Come All Ye Faithful," "Christmas in the Air," "Christmas Dreams," and many more! Trans-Siberian Orchestra is performing over 100 shows this winter for the Ghosts of Christmas Eve: The Best of TSO and More Tour! The much-awaited trek includes highly coveted shows in Sacramento, California! Are you ready for this? They're coming to the Golden 1 Center on Friday, 1st December 2023, and we can't wait for you to experience this one-of-a-kind heavy metal Christmas fest! So don't wait too long now and score tickets to see the Trans-Siberian Orchestra this winter!
The Trans-Siberian Orchestra (TSO) brings a whole new meaning of lifting your Christmas spirits, but make it metal! Yes, that's right! Even metalheads are allowed to enjoy the soundscape of the Yuletide season! But they're not only for metalheads. The band's incredible arrangements, mixed with classical, symphonic, and more, can be enjoyed by all types of listeners. Since the early 2000s, the Trans-Siberian Orchestra has entertained music fans with unique Christmas-themed numbers. Many of these tracks are originals, but you can also catch a plethora of yuletide favorites, such as "O Come All Ye Faithful," "O Holy Night," and more.
TSO has found phenomenal success with their annual winter tours. That's why this 2023, they are making their much-awaited return. The band, comprising excellent musicians, is bringing back The Ghosts of Christmas Eve: The Best of TSO and more. These two albums were both spectacular releases. In 2016, TSO dropped the soundtrack of The Ghosts of Christmas Eve, peaking at number 9 on the Billboard 200. Meanwhile, the rest of the tracks are handpicked from TSO's outstanding catalog, ranging from their debut album, Christmas Eve and Other Stories, to their latest album, Letters from the Labyrinth.
The band members, who are known for their work in the progressive metal band Savatage, will also be delivering covers, including hits from Savatage, Ian Hunter, and Ludwig Van Beethoven, among others. Besides an incredible aural experience, the Trans-Siberian Orchestra consistently gave audiences visual presentations. The band has been known to use spectacular special effects, breathtaking set design, and mind-blowing light arrangements. It really is the must-see spectacle for winter, and you should not miss this one!
The Trans-Siberian Orchestra is set to conquer the Golden 1 Center on the first of December. Aside from great music, attendees can look forward to a memorable evening thanks to the venue's great accessibility, outstanding customer service, excellent facilities, and comfortable plush seating. Their state-of-the-art sound and light technology allow the Trans-Siberian Orchestra to deliver a top-tier music production. Moreover, the venue's great location makes it easily accessible from all areas.
This is your opportunity to enjoy a tremendous Christmas-themed spectacle. It's a memory that you will enjoy for a lifetime. So hurry and lift your holiday spirits by catching the Trans-Siberian Orchestra at the Golden 1 Center on Friday, 1st December 2023! Tickets are now available through the Get Tickets link!